Hello! Please introduce yourself...
I'm Jenny Napier-Ford, the Head Gardener since January last year.I'm passionate about creating beautiful spaces and bringing the outside in…in the spring and summer there's flowers everywhere!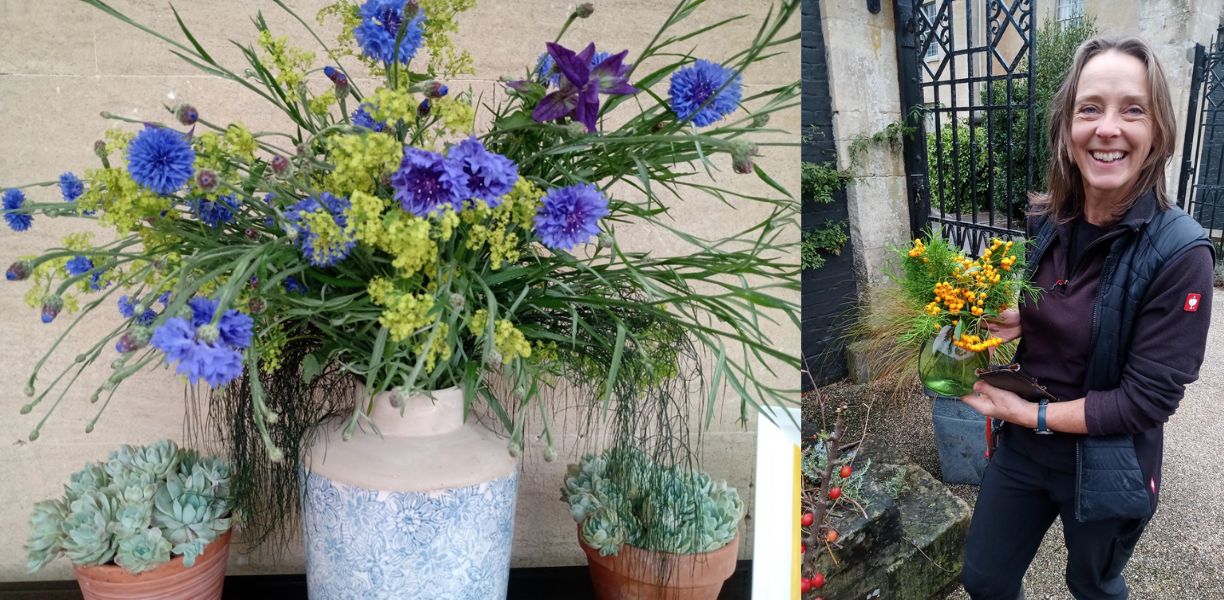 Tell us a little more about what you do on the Great West Way...
When back In January 2022 a guest asked me.. "can you tell me where the gardens are"... You know you've got a challenge on your hands.. they were standing in them!So this is our own Wiltshire version of "The Lost Gardens of Heligan".The gardens hadn't had much investment for over 30 years.
We now have a fantastic team focussed on developing the gardens and grounds; creating magical spaces for our guests, spa members and team to rejuvenate and relax in.
Do you work with a wider team? If so, tell us a bit about them...
Our team includes Jake.. our Assistant Head Gardener and six part time gardeners (myself, Lee and Rob. Darren, Adele and Eileen in the Kitchen Garden plus volunteers Katherine, Henny, Sandy and Claire. We also have crazy Dan on the building projects side and Ian the owner inspiring us with mad ideas.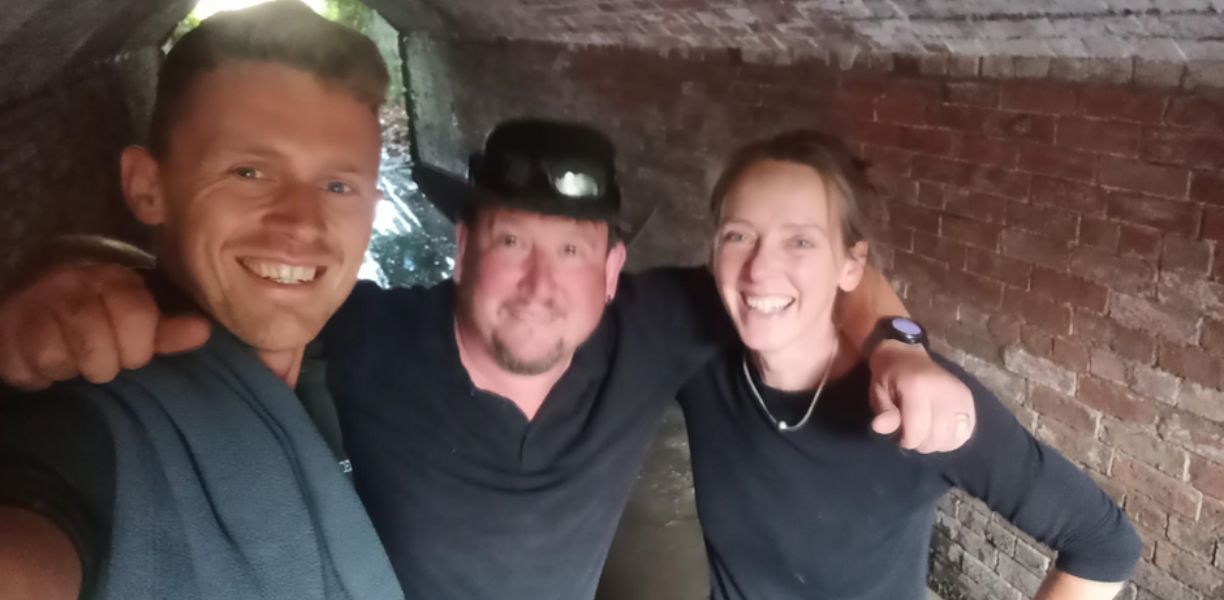 What do you find inspiring day-to-day? What keeps the enthusiasm going?
We have our very own secret gardens here .. uncovering the original pleasure grounds of William Temple … the Rotunda, the Temple Summer House, Boat house and Vine house… we've got it all… it's just been hidden under thirty plus years of Ivy, brambles and laurel.Take a walk down to the River Gardens through thetunnel and into the Kitchen Garden being developed along the principle's of No Dig..more on this to come
Then there's the exciting opportunity of creating new garden spaces around the main house, pool and dining domes.
We're aiming to create more private garden spaces for that ultimate luxury of a space to call your own. Immersed in colour, scent and peace.
We've got woods, river and ancient burial mounds to explore, your eyes will be opened to the nature on our doorstep and we've even got our alluvial deposits being researched for the activities of hairy bronze age men!
And as a taster… we love creating experiences at Bishopstrow. Our Honey Farmer let us all dress up and take part in the Honey Harvest..
So that's a little introduction to Bishopstrow.. to find out more come and visit .. explore the grounds, have a chillout in the hot tub, then lunch or afternoon tea . The food is fabulous.. and of course it's on the Great West Way.
What else is there to love on the Great West Way…
The chance of Slow Travel…the canal and all the gorgeous towns and villages along it's route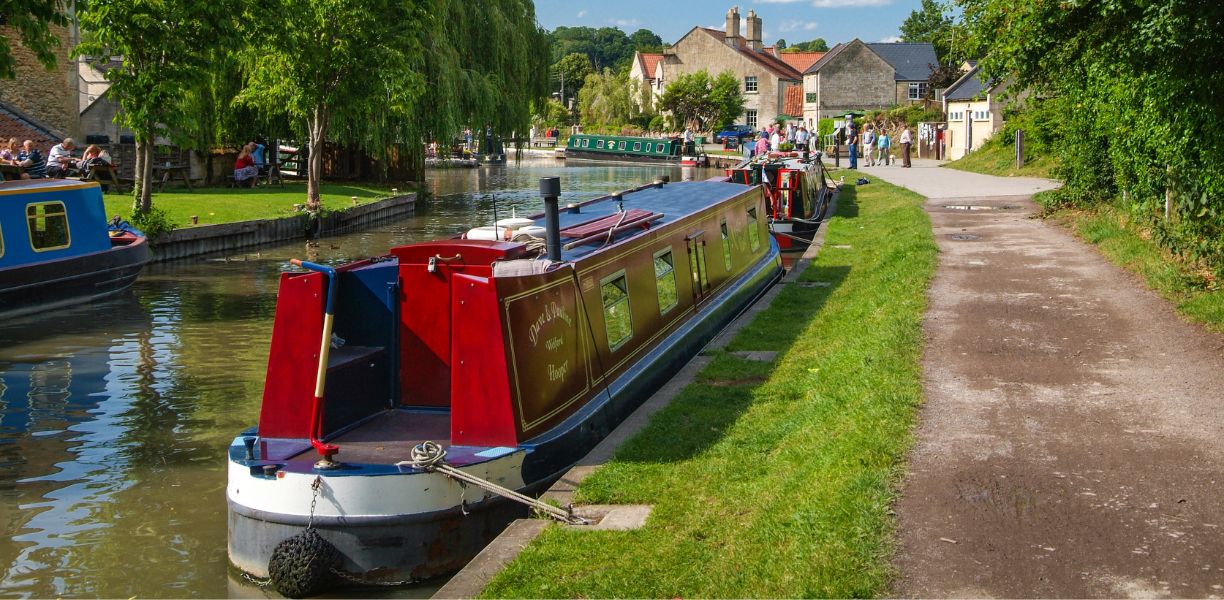 My previous partner…( the one I bought the Tug boat with!) had a lovely narrow boat moored at the Marina in Bradford on Avon. We had many relaxing weekends mooching along into Bath or heading into Devizes. Once took two weeks to go to Hungerford and back. I'd happily while away hours at the bow of the boat videoing the weird and wonderful, the goats chomping in the woods, the flash of a kingfisher, the crazy sculptures along the way with the chug of the engine.
If you want to get involved and feel more connected...lock gates are large and heavy on this part of the canal system… so take a stroll along the canal...ask the boaters if they'd like a hand pushing the gates open. I was so grateful
Head to Bradford on Avon… there are many fantastic places to eat or just have coffee. My ideal day in BoA would be start with a really frothy cappacino at The Bolthole in The Shambles, head into Ex-Libris book shop run by Jim and probably also check out if there's any vases upstairs at The Dorothy House charity shop next door. I've found some real treasures for displaying our own cut flowers at the hotel. Then a mooch around the Tithe barn before following the path up to Avoncliffe for another great cuppa at The Cross Guns.
Lunch would be at The George in Woolley… we also go to their fabulous Supper night on the last Thursday of the month . Every month!! Definitely have the wine flight… really great food pairings.
As a resident of Bradford on Avon we quite often walk down into town for a simple supper at Olea by the river or have tapas at Pablo's in Lamb Yard.
If you are heading Corsham way book at Mother & Wild before going to one of the plays at the Pounds Art centre
There's so much to do around here .. stay local or hop on a train .. don your wellies or your flatties (forget high heels in Bradford on Avon.. the hills!
Final tip… a way to get outside your normal way of doing things ..do an A - Z of activities…. It's all on offer …check out my Bs… Belly-dancing, Buddhism, Bell ringing (that got us a C too in Campanology!), Biking…and that is only in Bradford on Avon!!
Look forward to meeting you at Bishopstrow. Ps. If you are here on a Thursday you might even get a stroke with the kitchen garden dogs Nelly and Muffy.
Jenny and the team. Xx
Related