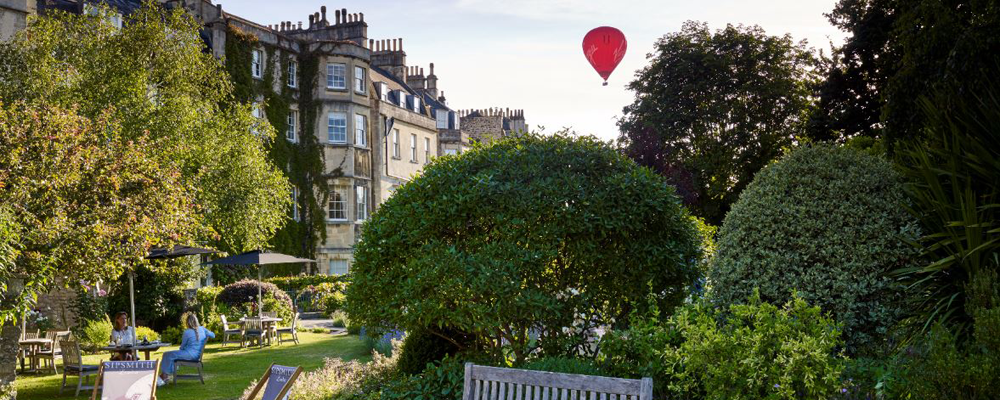 Hello Great West Way Ambassador! Please introduce yourself...
I'm Mary Stringer, the Marketing Manager at The Royal Crescent Hotel & Spa, a luxury five-red-star hotel situated in the center of the Grade-I Listed Royal Crescent. We are located in the beautiful, historic city of Bath, famed for its naturally warm thermal waters, and its rich Celtic, Roman and Georgian history. We offer luxury accommodation, afternoon teas, spa experiences, and an acre of gardens, for visitors from all over the world to enjoy!
What do you love most about your job?
I've always been quite creative, so I really love planning campaigns then bringing them to fruition. Last Christmas I planned a Nutcracker Hunt around our gardens, which children and adults alike visited to experience. This year I updated the concept for summer with a Poetry Trail, for which I had to spend hours researching and choosing between some of the best nature poetry ever written… definitely a labour of love!
Our General Manager is very supportive of local charities and has encouraged us all to develop our CSR initiatives, and I really like this aspect of working here as it feels good to give back to our community, and to do something for the environment we live in. To this end I recently found out about three rescue hedgehog babies (hoglets) from Bath Vets, and arranged for them to be rehomed in our quiet acre of gardens. They have all settled in well, and are keeping our gardeners happy by way of pest control!
How did you get started? Has it been a long journey, getting to where you are today? What achievements are you most proud of?
My degree and masters in English set the scene for a career involving writing in some capacity, so marketing felt like a natural fit. I've since spent ten years building my experience up, agency-side and in-house. I am proud about completing my PPC & SEO qualification, as I've been able to draw on the skills I learned in every role I've had since. I'm also really proud about the garden trail campaigns at the RCH as they have added a new dimension to our gardens.
What's a typical day like for you?
I usually start at around half 7, have a coffee and whizz through my emails, check the analytics to make sure everything is on track, then after that point every day is totally different – well, right up to the end when I pop out to feed the hedgehogs!
Some days are busy with photo shoots, others I'm meeting with partners and agencies, sometimes I am out and about around the hotel. I could be arranging press visits with our agency, writing email campaigns, writing brochure copy... every day brings something new.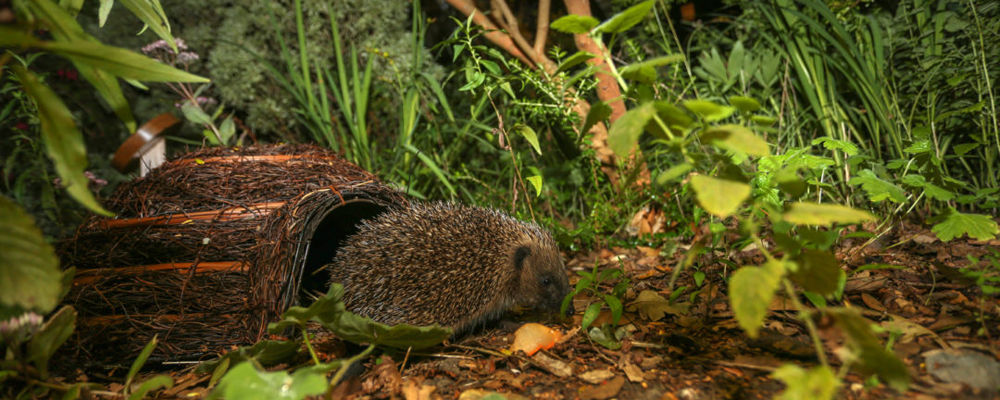 Do you work with a wider team? If so, tell us a bit about them.
I work very closely with our Revenue Manager, Events Manager, Business Development Manager and our General Manager, with regards to our overall commercial strategy. I also check in frequently with other departments (for example spa, restaurant) to ensure I am doing all that I can to support them from a marketing perspective. Everyone is very highly skilled in their roles, and it is a real privilege to work alongside them.
What do you find inspiring day-to-day? What keeps the enthusiasm going?
Every morning I walk across the hotel's beautiful garden to get to my office, and every single time I remember how lucky I am to work here. It is the best time of the day to see the squirrels, who are quite entertaining – I once stood for a full minute watching one determinedly patting a buried nut down, only for him to finally decide the spot was no good after all, dig it back up and take off again!
Any interesting or funny anecdotes related to your role or your experiences with visitors that you can share?
Last year we launched the Nutcracker Trail for the first time, and one of the meter-high porcelain Nutcrackers blew over and broke. The first I knew about it was when our maintenance manager Bob hurried past the office window with the Nutcracker's head under one arm and its body under the other!
What does slow travel mean to you?
When I was younger I really loved taking photos on my travels, I was so keen to document everything. Sometimes I'd whizz around an exciting new city and take hundreds of photos without stopping to properly take in each thing. So for me slow travel is about forcing myself to actually enjoy the moment, and to fully experience a place when I'm there - not just after the fact when I'm looking at my photos!
What do you think makes the Great West Way special?
The Great West Way is the first time (to my knowledge!) that there has been a formal scheme to connect all of the attractions along the route to Bristol from London, and encourage people to experience them as part of a journey rather than just singularly. The fact they can travel in different ways makes it all the more exciting. I am hopeful that, with the resurgence of the good old Great British Staycation, more people will opt for a holiday "on the go" in order to experience as much as possible of this beautiful part of the country, stopping somewhere new every night along the Great West Way.
Describe your perfect adventure on the Great West Way.
A lazy afternoon floating around in a spa, drifting along a river on a boat, or a great long walk in the beautiful countryside of the nearby Cotswolds (with lots of pub stops of course!)
What's your favourite thing to eat or drink along the touring route?
Bath is a brilliant city for foodies, there are lots of little independent restaurants and eateries! I would recommend a culinary tour with Savouring Bath, as then you'll get an opportunity to get a taste of up to 14 of the city's very best foodie vendors!
Are you a city, town or country person?
Well nothing quite matches the ecstatic feeling I get walking through a boggy field, feeling the rain on my face, in the company of a loopy dog tearing around like he's never been seen daylight before. But I do love the city of Bath – there's so much beauty everywhere you look, and you can reach the countryside from the center in a twenty-minute walk.
Are there any English stereotypes or traditions you'd like to set straight?
There's a lot of fuss made about the right way to make the perfect cup of tea, but I am yet to find two Brits who make one the same. Perhaps we're all wrong…
Another thing that I've never really understood is the stereotype of the "miserable Brit"; we might expect the worst sometimes, but never-the-less we do tend to hope for the best (sometimes despite all evidence to the contrary) – and surely that is optimism at its finest?!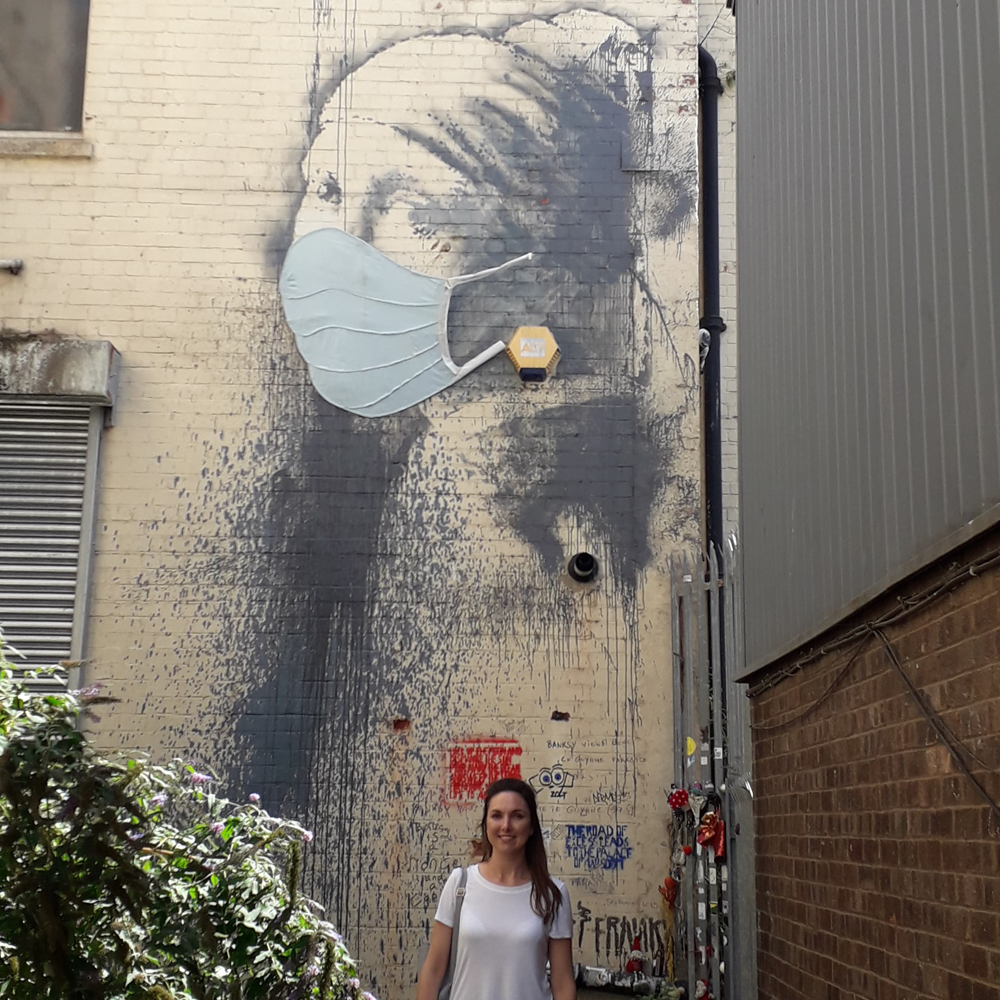 If you could choose one must-visit attraction along the Great West Way, what would it be and why?
My sister came to stay recently and we decided to check out some of the original Banksy artworks in Bristol. I've lived in Bristol for five years now and never done this! It was a gorgeous sunny day and we walked all over Bristol spotting the artworks (such as the Girl with a Pierced Eardrum, pictured), most of which were hidden between buildings or down alleys. It was the best day out I'd had in ages.
What do you think will surprise first-time visitors about the Great West Way? Any secret, lesser-visited spots you'd like to recommend?
The Cross Bath is a real hidden gem, and it sits in the very heart of Bath, mere steps away from the high street! It is a Grade I Listed building, with a pool filled with natural thermal water, and has been frequented by everyone from paupers to royalty since 1789! You can bathe in it knowing that you're following in the footsteps of Queen Mary of Modena (James II's wife) 300 years ago!
What's your preferred mode of transport: train, car, bus or boat? Why?
Definitely boat! I love water, and the sensation of floating. It's great hopping into a kayak and setting out in whatever direction I choose...
Related